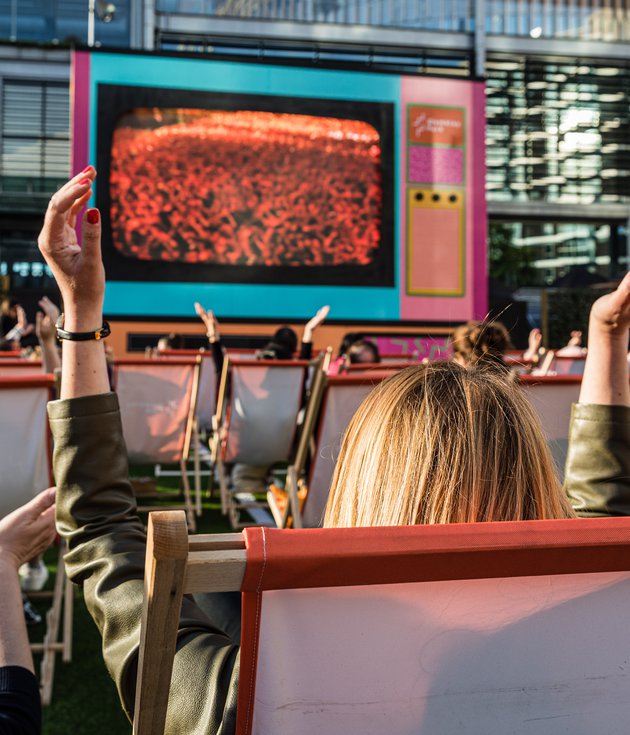 Summer's Here.
Summer's officially here at Wembley Park
With world-renowned entertainment and productions, mouthwatering food and drink and one-of-a-kind shopping experiences, Wembley Park is the place to be this summer. Why not pay us a visit and see for yourself?
SUMMER ON SCREEN
From Bollywood to Hollywood, Arena Square comes to life with summer screenings including Hollywood hits, classic singalongs, Bollywood blockbusters, and even outdoor screenings live from the Royal Opera House. Best of all, screenings are completely FREE, so be sure to get here early for pre-show entertainment, food, drink, and secure your seat.
International Busking Day 2019 with KT Tunstall
Helping us celebrate the world's largest festival of busking and street performance, Brit-award winner KT Tunstall will be headlining the Main Stage on Olympic Way this Saturday 20th July 2019 at 7PM. Supported by the Mayor of London, International Busking Day will see performers in cities across six continents unite with musicians in London for a celebration of busking and street performance.  On Saturday 20 July, cities from Sydney to Reykjavik and Tokyo to Rio will follow London's lead and showcase their busking talent at celebrations to mark the third International Busking Day. Join a stellar line-up of international artists, as they take over Wembley Park for the day, filling the area with music, magic, comedy, physical theatre and dance. 
See you at the festival!
#InternationalBuskingDay
ROYAL OPERA HOUSE PRESENTS: BP BIG SCREENS
As proud official partners of the Royal Opera House, we invite you to fully immerse yourself in some of the world's most famous productions, as the BP Big Screens return for 2019. This summer, we'll be adding extra drama to Arena Square with a series of live screenings of some of the world's most popular operas and ballets. We'll be setting the scene for each screening with captivating and unique pre-show entertainment from some of London's most fascinating performers, so make sure you are early:

SPORT ON THE BIG SCREEN​
Sport on screen is always popular, and the Wembley Park Summer Screening programme will broadcast live coverage of the ICC Cricket World Cup and the Tour De France on most afternoons. If it's not on our big screen, head over to Boxpark Wembley where you can catch it live.
– ICC Cricket World Cup screenings run daily to 14 July.
– Tour de France screenings run daily from 6 to 28 July.
KIDS' CARTOONS
On Saturday and Sunday morning's from 9 – 10.30, kid's cartoons will be played on the big screen for everyone to enjoy. We have it all from family favorite, the latest hits and the comedy classics.
-July 6-7, 13-14.
WEMBLEY PARK WELCOMES GETTY IMAGES GALLERY
A brand new gallery space is opening in North West London's famous cultural neighbourhood. Opening on June 28th, Getty Images Gallery is a new stunning gallery space in Wembley Park, situated on the iconic Olympic Way. Right in the heart of Wembley Park, Getty Images Gallery is London's largest independent photographic gallery. Offering a selection from 80 million photographs and growing, Getty Images Gallery exhibits impactful contemporary works alongside vintage classics. A dedicated on-site team will be on hand to offer a full range of bespoke services from custom curation, print sales and framing. The first exhibition will be the 'Ages of Wembley', an exploration into emergence of Wembley Park as a world-famous leisure and entertainment destination from the 1920s onwards.
Dinosaur World Live coming to Wembley Park this July
Dino Day out in Wembley Park looked like a roaring success! The dinos from Dinosaur World Live came down to Wembley Park to explore their new home for the summer before they make their debut next month at Troubadour Wembley Park Theatre and it certainly looks like they had a blast! From not sharing their pizza at Boxpark Wembley to hunting for bargains at London Designer Outlet and playing a spot of footy on Olympic Way – looks like they've made themselves right at home. The totally ROARsome production of Dinosaur World live is coming to the Troubadour Wembley Park Theatre this July – so grab your compasses as we delve into unchartered prehistoric territories.
ART IN THE PARK
Explore Wembley Park's thriving art scene with commissions and installations throughout London's newest cultural hotspot. Situated around the heart of the transformed Wembley Park, numerous art pieces can be spotted in the area from the famous Spanish steps to pillars and posts along Olympic Way.
TALKS & WORKSHOPS
Take part in for a series of behind-the-scenes tours of Wembley Park's most iconic architecture and historical buildings, by experiences guides.
Open House London
Join the creative teams at Quintain and the designers working at Wembley Park on a fascinating journey, taking you through the past, present and future of this 85-acre site around Wembley Stadium, which is rapidly becoming a major new destination and neighbourhood for London.
Tour highlights will include visits to Boxpark Wembley, Troubadour Wembley Park Theatre, Second Floor Studios & Arts, SSE Arena, Wembley, the award-winning Alto complex, Emerald Gardens at Tipi, London Designer Outlet and an interactive masterplan model of the new Wembley Park.
Time/Date: 21 & 22 September
National Park City Week and Open House London present: A Botanical Tour of Wembley Park
As part of National Park City Week, the team behind the regeneration of Wembley Park will host a special public tour of this landmark new neighbourhood being created in North West London. Learn about Wembley Park's rich green heritage - from its leafy origins as Wemba Lea to the hedged fields of Wembly Green, as you discover the plans for the future neighbourhood, including the creation of 7,500 new homes and a 7-acre public park. Join Tour Leader Julian Tollast, Head of Masterplanning and Design at Wembley Park and National Park City Foundation Trustee, as he takes you through a journey through the past, present and future of the 85-acre site around the National Stadium.
Time/Date: 28 July 2019. 11am & 1:30pm
A UNIQUE ATMOSPHERE...
As London's newest lifestyle hot spot, Wembley Park offers a unique and exciting cultural experience that can be enjoyed by everyone. Relax, eat, shop, live this summer in North West London's world-famous neighbourhood. Tag us in your pictures for a chance to be featured #WembleyPark.