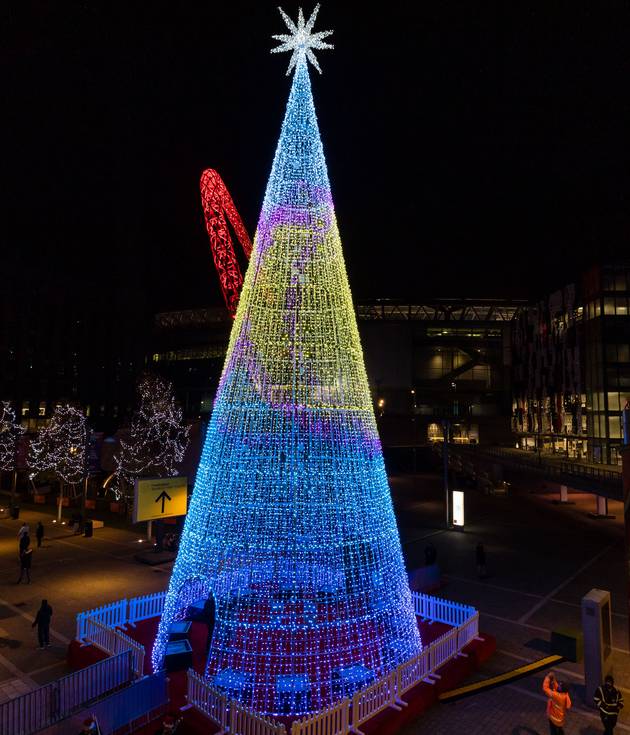 Wembley Park Christmas Lights
We're still getting in the festive spirit with several installations for visitor and Wembley Park community to enjoy.
For the second year running, London's tallest LED Christmas tree will be returning with the stunning new digital artwork 'Aurora Arbour' from artist Siân Bliss. Joining Aurora Arbour, festive selfie-spots will brighten up Wembley Park providing the perfect Instagram moments. The selfie-spots will include 'LoveSpot…Under the Mistletoe', a 3-metre tall heart sculpture adorned with mistletoe and pulsating red lights on Wembley Park Boulevard; 'Star Box', a giant gift-box shaped cube, filled with glowing golden lights and shimmering sequins situated on Zig-a-zag Allee; Bauble, an enormous illuminated Christmas bauble that visitors can step inside and immerse themselves in on Weaver Walk; and Angel Wings, allowing visitors to really feel divine this Christmas outside the new Wembley Mark Market Emporium, on Market Square.
Spotlight on Aurora Arbour

London's tallest LED Christmas tree will be returning for 2020, adorned with a brand-new specially-commissioned digital artwork by Siân Bliss. 'Aurora Arbour' is inspired by the spectacular and magical movements of a winter night's sky, and remind us that even though we may be apart, we all share the same sky. This concept will also illuminate the creative neighbourhood with digital animations and illustrations featuring sunrises, moon cycles and aurora borealis across Bobby Moore Bridge, four digital totems and fourteen LED banners illuminating Olympic Way.
Artist bio
Siân Bliss (she/her) is a multi-media artist and recent graduate of the California Institute of the Arts, Los Angeles, CA, in the MFA in Experimental Animation program. She currently based in London at Secondfloor Studios. Bliss has experience working in a number of roles with a plethora of companies, big and small, such as Walt Disney Imagineers, KBJ Architects, CalArts, Cartoon Network and Khora VR. She has an ever growing list of exhibits and residencies to her name, such as NES (Iceland), ArtHub Copenhagen (Denmark), Bermondsey Project Space (UK), and REDCAT (USA) and is a member of the Subterranean Video Art Club, Copenhagen.