Coming to Wembley Stadium in Wembley Park for a big event? You need our guide to visit Wembley Stadium.
Whether it's for a big football match or to see your fav musician live, visiting Wembley Stadium is a big deal. You might be travelling from far or popping on the tube for a couple stops, but you'll want to know all the tips and tricks, including how to get to Wembley Stadium, where to stay near Wembley Stadium and any event rules.
How to get to Wembley Stadium

Wembley Stadium and Wembley Park are extremely accessible with three railway stations with Overground, Underground and National Rail service and over 3000 parking spots. The closet tube station to Wembley Stadium is Wembley Park, via the Metro Line or Jubilee Line. Wembley Central Station is a short 10 minutes walk accessible via the Bakerloo Line or Overground. Wembley Stadium Station can be accessed via fast Chiltern Railways and Southern Railways trains, meaning you can get to Marylebone in just 9 minutes or Watford Junction in 14 minutes.
If you fancy driving to Wembley Stadium, it's really straight forward and just a short drive from the M1, A40 or M25. Use postcode HA9 0FA in your Sat Nav for ease. There are over 300 secure parking spaces around Wembley Stadium but we recommend pre booking for an event as these can get busy. Parking prices vary – check this link for a full breakdown of parking costs at Wembley Stadium.
Find out more information about getting to Wembley Park here.
Visiting Wembley Stadium for an event

Just like any major event, there are a few rules and guidance you need to follow when visiting Wembley Stadium for an event. This ensures everyone is safe and your visit is stress free. The biggest thing you need to remember when visiting Wembley Stadium is their bag policy. Wembley Stadium do not allow any bag bigger than an A4 piece of paper (H 297mm, W 210mm and D 210mm), so make sure you double check before you leave. No worries if you want to buy any official merch from Wembley Stadium, they have certain provisions in place. Find out more about Wembley Stadium's bag policy here.
There are a number of prohibited items when visiting Wembley Stadium such as large umbrellas, selfie sticks, pushchairs, food and drink, drones, large-bodied cameras and camcorders, alcohol, aluminium and glass drink containers, plastic bottles over 500ml, weapons and tools and more. Basically anything that deemed to be offensive or abusive, compromises public safety, or might be used as a weapon. You can see the full list of Wembley Stadium's prohibited items here.
If you're visiting Wembley Stadium for an event, it's important to remember the venue is now a cashless venue, so bring a debit or credit card with you are no kiosks in Wembley Stadium will take cash.
Finally, remember your ticket. This may be an e-ticket or psychical ticket but remember to bring it with you along with ID or you won't be able to get into your event at Wembley Stadium. We suggest bringing a power bank with you if your ticket is on your phone, just in case.
You can find out more about Wembley Stadium event day regulations here.
The view from your seat at a Wembley Stadium event

Getting excited for your event at Wembley Stadium? Why not check out the view from your seat! Below are two maps of the Wembley Stadium event day layout - sports and music events. Click the small square in the top right hand corner for the relevant map for your visit to Wembley Stadium to enlarge it and check out your view.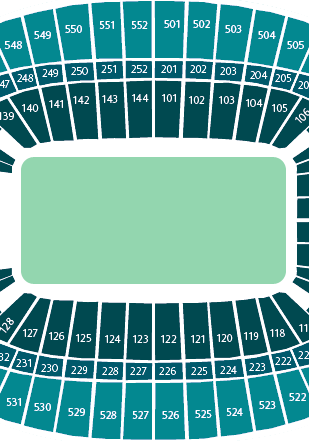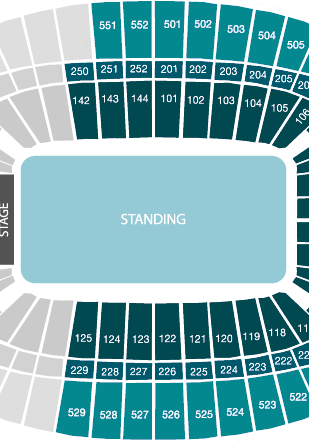 Accessibility in and around Wembley Stadium

Wembley Stadium and Wembley Park are inclusive and accessible - the entire neighbourhood is step-free, from the public transport to parking, Wembley Park retailers and Wembley Stadium itself. This includes dedicated lifts, trained stewards and staff, accessible toilets and changing places units, induction loop facilities, assistance dog provisions and more. You can read more about accessibility when visiting Wembley Stadium and Wembley Park here.
Where to stay around Wembley Stadium
Hilton London, Wembley
Turn your visit to Wembley Stadium into a mini staycation! There are plenty of hotels around Wembley Stadium if you're making your trip and overnight one, including the 4-star Hilton Hotel which is just a stones through away from Wembley Stadium. Wembley Park also have a number of hotels dotted around including Novotel, Ibis London Wembley, Premier Inn and independent hotels with local character like Wembley International Hotel. Click here to check out a number of great places to stay near Wembley Stadium
Where to eat around Wembley Stadium

If you're planning to head to Wembley Park a little earlier before your event at Wembley Stadium, you might want to grab a bite to eat - it's hungry work after all. Wembley Park has over 60 places to eat and drink before you're event, so you might just struggle to pick your fav. BOXPARK Wembley on Olympic Way always offers a real party atmosphere, with three bars, music and over 20 world street food traders to pick from. If you head to London Designer Outlet, you can find all of your high-street favourites including Wagamamas, Nando's, Pizza Express, Byron Burgers and more. If you're looking for a seat down meal, Masalchi, by twice-Michelin starred Chef Atul Kochhar, is a safe bet with an incredible Pan-Indian menu full of delicious dishes, or Estadio Lounge opposite the OVO Arena Wembley is perfect with a fun and diverse menu (with lots of cocktails!). If you want a quick bite, why no try Pasta Remoli or Bread Ahead? You can view all of our restaurants and eateries here so you can pick before your visit to Wembley Stadium.

No guide to visiting Wembley Stadium before an event would be complete without some of the top bars and pubs to grab a drink before the celebrations. If you're coming for a sporting event, bars and pubs around Wembley Park often become certain fan zones. Make sure you find out where your team's fan zone is before the event so you can head in the right direction. If you're coming for a music event, you get check out all of Wembley Park's best pubs and bars, including BOXPARK Wembley for some party vibes, The White Horse for a quintessential British pub (with an incredible drink selection), Estadio Lounge for a huge cocktail menu (as a matter of fact, beers and spirits too), TGI Fridays for that year-round Friday feeling and experimental drink list and more. Check out all the best bars and pubs for your visit to Wembley Stadium here.