At the BOXPARK Wembley restaurants, diverse food traders from across London offer up delicious bites, from fully loaded burgers and home-style Caribbean dishes to authentic Italian pizza and delectable ice creams.
With an impressive lineup of 22 mouthwatering restaurants and three bars, the BOXPARK Wembley food and drink choices will tickle everyone's taste buds. And with light and spacious social seating areas, there's nowhere better to get together with friends and family in London and try a little bit of everything. But that's not all, BOXPARK Wembley hosts events, club nights and has a whole floor dedicated to gaming and entertainment - it's all you need for a great night out!
Eat at BOXPARK Wembley in London
From award-winning burgers from Nanny Bills to vegetable charcoal pizza bases at Zia Lucia and London's tastiest poké bowls at Island Poké, the food options at BOXPARK Wembley are like no other. Whether its sitting down with a catch-up for friends, a quick bite before the gig or a meal with family, you'll love all the options to eat at BOXPARK Wembley.
Can't decided? Click here for our guide to every BOXPARK Wembley trader to help you pick.
BOXPARK Wembley Food, Drink and Events
At BOXPARK Wembley, London's largest to date, you'll find so much more than a great place to grab some tasty eats. If you're looking for some more lively entertainment, there's a regular schedule of events in the main space, the upstairs PlayBox bar and the club room, hosting everything from markets and live sports screenings to Hip Hop Karaoke nights and stand up comedy. Bingo Lingo, anyone? BOXPARK brings together the best of Wembley pubs, local food and entertainment, all under one roof.
BOXPARK Wembley Opening Times
BOXPARK Wembley is open from 11am daily.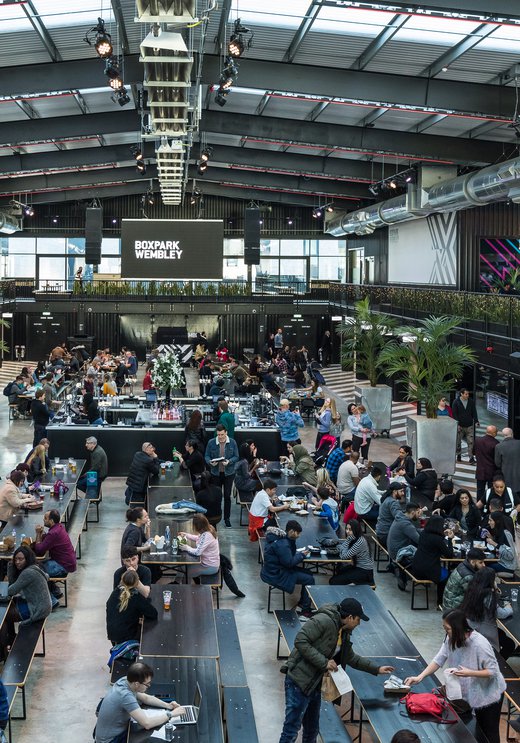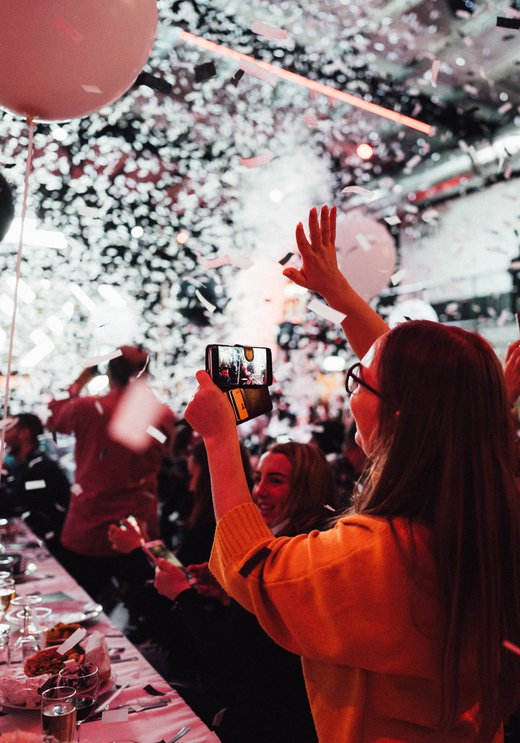 BOXPARK Black Card
Entry to BOXPARK Wembley is via the BOXPARK Black Card - their membership scheme were you can get heaps of offers and perks at all the BOXPARK venues. Plus, when you sign up you get your first drink free! Every time you spend at a BOXPARK Wembley bar (there's three of them!), just get your Black Card scanned and you'll collect a point for every £1 spent. If you use the BOXPARK table service, your points will be automatically added to your digital BOXPARK Black Card wallet.
To get a BOXPARK Black Card, all you need to do is click here and follow their simple instructions.
#BOXPARKWembley
Follow BOXPARK Wembley on social for the latest events, restaurant openings, and limited time offers.
Discover the PlayBox
The PlayBox bar is packed with games to turn your search for street food in Wembley into a big night out at BOXPARK Wembley. Try your hand at shuffleboard, rack up a game of pool, or go head-to-head with your mates at table football or day-glo ping pong. Fancy a side of axe throwing while you enjoy the best street food in London? Flex your arms and cross your fingers at the Bad Axe throwing club. Or if you prefer a little bit of escapism, try out BOXPARK Wembley's mind-blowing virtual reality experience at meetspaceVR, the world's leading VR experience. If you want to try your hand at golf, make sure you check out their music-themed crazy golf experience, Pop Golf.
Check out all the fun and weird activities you can do in Wembley Park here.
Unlock more with One Wembley Park
Shopping in Wembley Park has just got a whole lot better with our brand-new rewards club and app, One Wembley Park. Unlock exclusive offers, incredible discounts, early sale access and exclusive VIP events. With every penny you spend, you'll earn points and earn even more rewards. What are you waiting for? Start saving by filling in the form below to sign up to One Wembley Park.
BOXPARK Wembley FAQs
Is Boxpark Wembley free?

BOXPARK Wembley (and all BOXPARK's in London) are free entry unless there is a specified paid event on that day.

What time does BOXPARK Wembley open?

BOXPARK Wembley opens at 11am everyday.

Does BOXPARK Wembley show football?

Is BOXPARKWembley halal?

Some of BOXPARK Wembley's traders are halal. Please check with each individual trader.

Is BOXPARK Wembley outdoors?

BOXPARK Wembley is indoors but does have some outdoor seating.

How much is a pint at Wembley BOXPARK?

A pint of beer at BOXPARK Wembley varies depending on brand, starting at £5 (subject to change).