Gone are the days of sad and tasteless veggie dishes, with nearly every restaurant offering full of flavoursome meat-free menus.
To pay homage to vegetarian and vegan lifestyles, we've rounded up the best vegan and vegetarian restaurants in Wembley Park.
Vegan gourmet burgers. Yes, please! Clean Kitchen Club offers plant-based fast food that tastes delicious. Experts in juicy burgers and loaded fries, the 100% vegan eatery is indulgent for everyone. Pick up one of their signature Cheat 'N' Clean burgers for an irresistible vegan patty.
Wagamama has cemented their place as one of the best plant-based eateries around, having some of the yummiest meat-free dishes and a 50% plant-based menu. With menu classics like Katsu Curry and Yaki Soba teamed with new dishes, you really won't be compromising on taste. Their Tofu Firecracker or Tofu Raisukaree will warm you right through with spicy flavours. If you still looking for something extra, you'll love their vegan chilli 'squid'.
Authentic Indian dishes and a mixture of spices, Masalchi by twice Michelin-starred celebrity chef, Atul Kochhar, serves hearty food, fragrant curries and juicy grills. Their packed and flavourful menu is stuffed with vegetarian and vegan options for everyone to love. Their Kathal Makhana Biryani, made with jackfruit and lotus seed, is a crowd fav, but we also recommend their Subz Nariyal Korma, a Chennai style vegetable korma with coconut and curry leaves.
Freshly made nutritious dishes, Itsu in Wembley Park prides themselves on a well-stocked plant-based menu spanning sushi, salads, rice and noodle bowls, gyoza, soups and sides. Don't miss their Veggie Sushi Selection and Veggie Gyoza noodle bowl.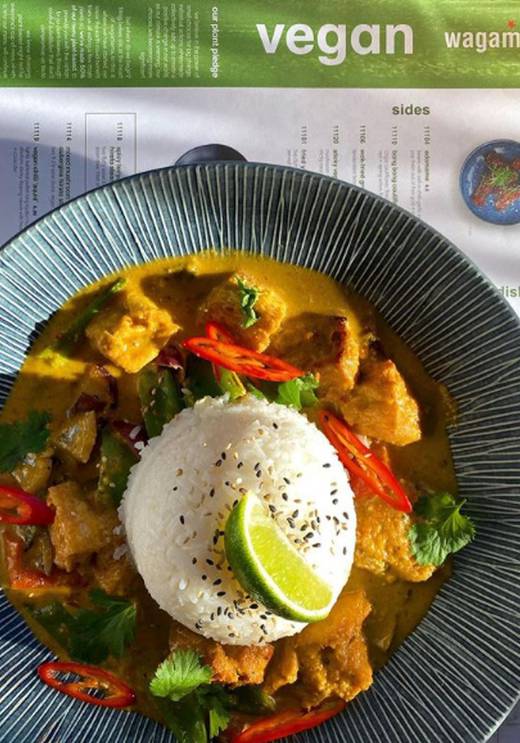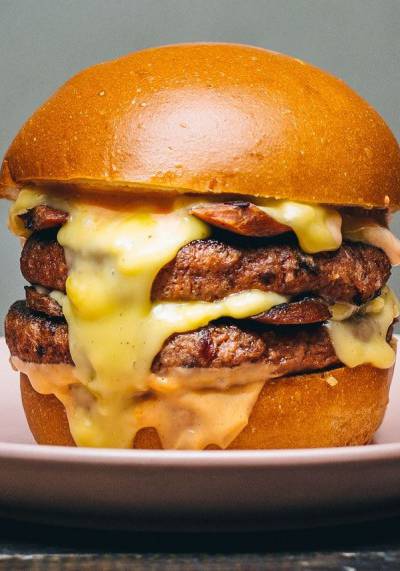 Fresh, healthy and all the rage, Island Poké at BOXPARK Wembley brings a slice of sunshine to Wembley Park with their delicious poké bowls. With plenty of plant-based options or a build-your-own menu to mix and match the flavours you love, their fresh Pacific flavours are all sustainably sourced and high-quality, giving your food the feel-good factor. Why not try their Teriyaki Tofu for a reimagined favourite fish or for something with a little kick, taste their Miso Aubergine poké bowl.
Who doesn't love pizza? Thankfully the connoisseurs themselves have an incredible vegan and vegetarian range that includes calzones and starters. With their popular dishes being re-imagined with vegan cheese and delicious toppings, you don't need to miss out on your favourite comfort food. Try their new Vegan American Hot Classic, a plant-based version of their popular American Hot pizza. But don't fear, nearly all of their much-loved pizzas come in a vegan or veggie version, so you can still get your favs.
Straight from the sunny isle's of Greece, Smashing Plate's fresh traditional souvlaki with authentic tastes and spices will whisk your taste buds away to Mykonos. Their pick-your-own style menu means to can go full plant-based or vegetarian without compromising on authentic flavours. If you're looking for a delicious side dish to add to your meal, their Roasted Tomato Croquettes are plant-based bites of heaven.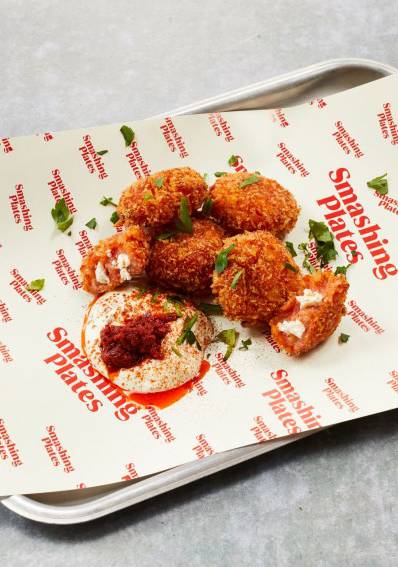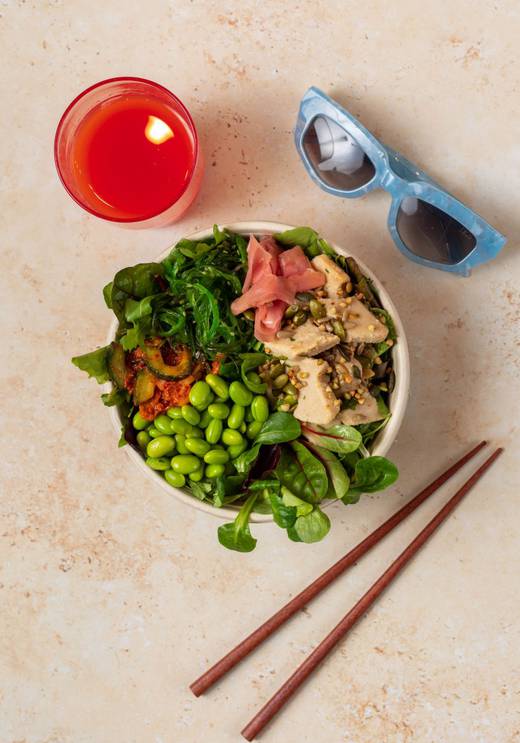 With an all-veggie menu, Viva Falafel in BOXPARK Wembley brings one of the oldest street foods to Wembley Park. Packing some serious flavour, their traditional falafel (made from Grandma's secret recipe) is served with wraps, salads or some scrumptious hummus.
Award-winning burgers and unrivalled taste, Nanny Bills' vegan and vegetarian range will have your mouth watering. Try their The Lula burger for their famous black bean & quinoa patty, topped with vegan cheddar, vegan burger sauce and glazed pineapple. If you're still craving the taste of meat, their Chick Thing plant-based chicken fillet will fill that fix. If you're a vegetarian we highly recommend their signature Mac & Cheese Croquettes. You can thank us later.
Combining Indian street food and easy-to-eat formats, Tandoori Fusion in London Designer Outlet allows you to build your own dish with an abundance of fresh veggie and vegan options. Packed full of flavor, spices and the best ingredients, you'll keep going back for more (sorry!).
To die for pasta. And we mean it. Head to Pasta Remoli for that much-deserved carb fix and indulge in their truly delicious pasta dishes. Not only does their DIY menu have an incredible range of veggie and vegan sauces, but is also packed with egg-free pasta and vegan gnocchi. For a veggie option, we recommend the truffle and mushroom ravioli in a butter and sage sauce. Vegan, go for the potato gnocchi in the spicy arrabbiata sauce. Buon appetito!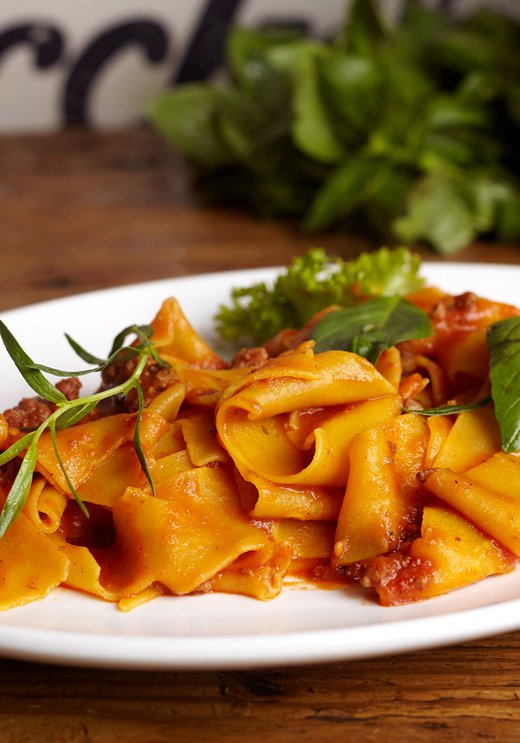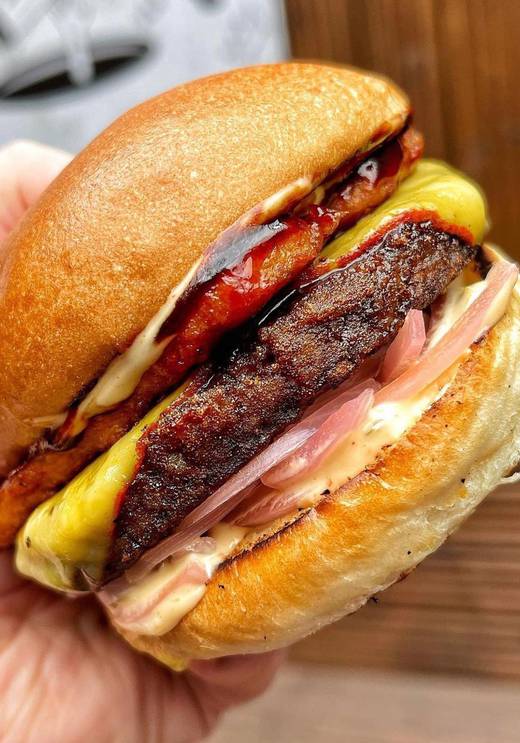 Nothing beats a good, juicy burger and going meat-free doesn't mean you have to miss out. Smoky Boys has a delicious range of vegetarian and vegan burgers to sink your teeth into. Try their Smoky Vegan for a moving mountain patty topped with salsa, vegan cheese and grilled onions. Their Halloumi Stack Burger is not one to miss, with red peppers, tzatziki, smoky harissa all piled on top a halloumi patty and brioche bun.
With traditional family recipes and fresh local produce, Thai Express serves us punchy dishes and flavourful Thai cuisine. Better yet, their vegan and veggie options are plentiful. From their flagship Pad Thai, to Thai curries and delicious stir-fries, it'll fast become one of your favourite places. Try their Stir-Fry Satay Peanut for sweet and nutty flavour with jasmine rice, or dig into their spicy Red Curry for something with a kick.
We couldn't write an article without shoving a sweetie option in there! Dedicated to serving the world the best ice cream possible, Udderlicious have really upped the vegan-ice cream game with a range of ice creams and sorbets made from dairy-alternatives. Oat, hazelnut, almond and coconut milk are all used as the base of their super-wide range of vegan ice creams. Go on. Treat yourself.